Fully automated production process with special feeders.
MESE – "concepts & solutions that matter"
Feeding and separation of complex components
Our portfolio in the field of feeding systems ranges from simple applications to complex feeders for placement lines and assembly systems – we offer solutions for a variety of industrial production areas in a wide range of industries.
With our expertise in conception, design, manufacturing and integrated software applications, we develop and manufacture special machines for individual manufacturing processes. Intelligent sorting and feeding systems to automate your production process are the result.
Your component and your production requirements are the foundation of our work.
With our special feeders, the feeding and provisioning of components of all kinds can be realized!
MESE – Your Partner for Special Feeders
Precise feeder systems for the feeding of punched parts and Odd-Form components for your individual and efficient production process.
Precisely fitting feeding technology and perfect separation of components, present as bulk material, with accurate provision for placement machines (pick & place machines).
Processable components and their properties

The possible applications are manifold and are developed to fit your production process and the components to be processed. Thus, Odd-Form components made of various materials, alloys and surfaces can be processed and finished. It does not matter whether the components are made of materials such as steel, aluminium, copper, or alloys such as Inox. In addition, it is possible to process components with various surface coatings, such as galvanic or chemical tinning, silver, gold or nickel.
The nature and use of the components can be just as varied as their properties. These can range from punched plates to axial THT components, radial THT components, SMT components packed in blister packs and components connected to carrier strips, such as terminal contacts, socket contacts, and reeds. Furthermore, the processing of cable bridges and electrical wire connections is also possible.
Processing options

Exemplary, two different starting products for individual processing options are shown below.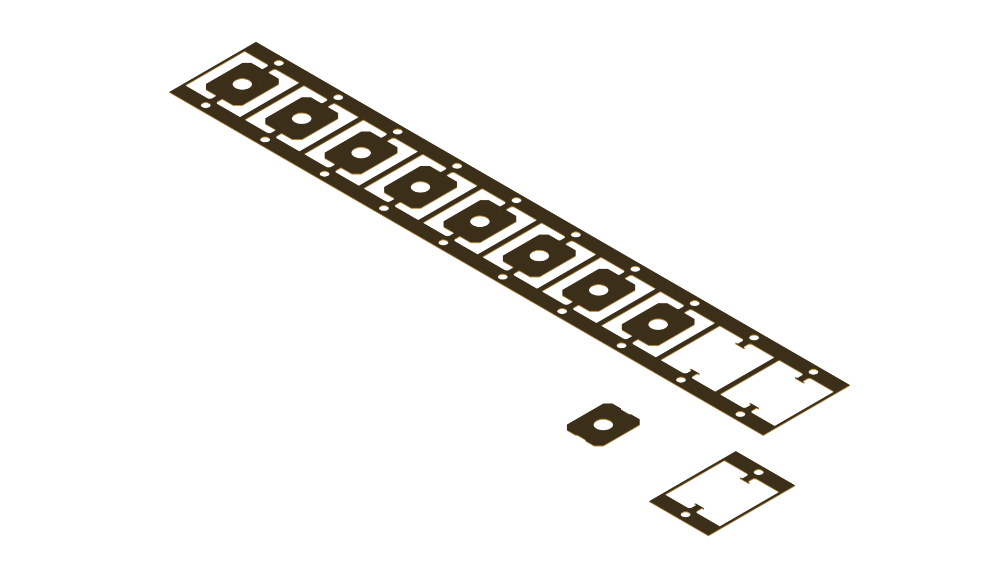 Components punched out of carrier strips

For example the starting product for the production is a carrier strip with enclosed metal plates (soldering and welding plates), which are separated from their carrier strip by the punch feeder and made available for pick up by the pick and place machine. The original product and its carrier strip are delivered on a reel.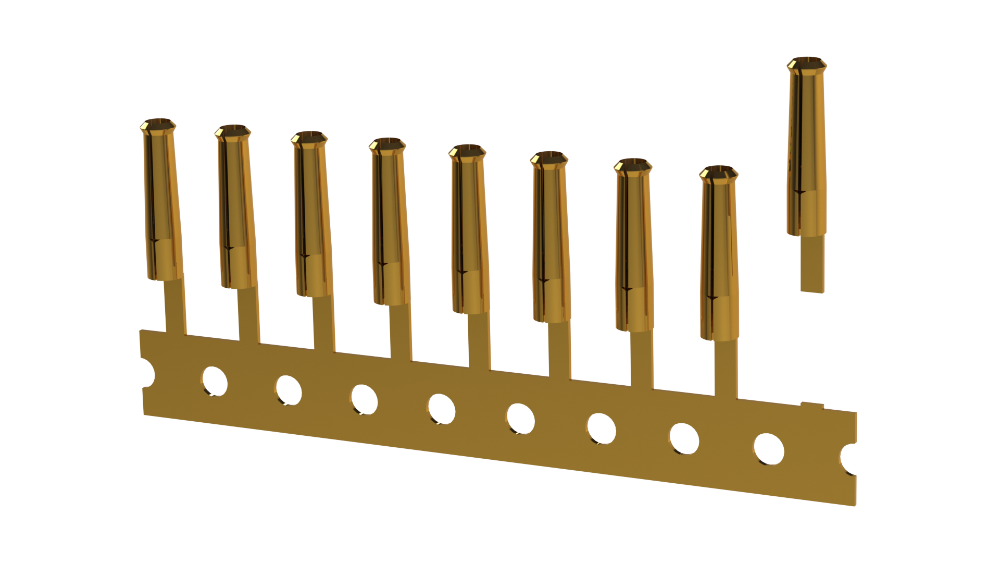 Components separated from the carrier strip

The components are "socket contacts" or other components to be processed, which are connected to a carrier strip and are separated by the feeder (special machine) and fed for further processing.
Punch Feeder – an example of a realization
Complete special feeding module for contacts on reel with reel holder, product feed, punching, bending, and cutting tools as well as transfer module for supplying the punched and transformed IDC contact to a downstream production line. The feeding system is equipped with its own control unit, control software, actuators, sensors, and communication interface to the higher-level control system.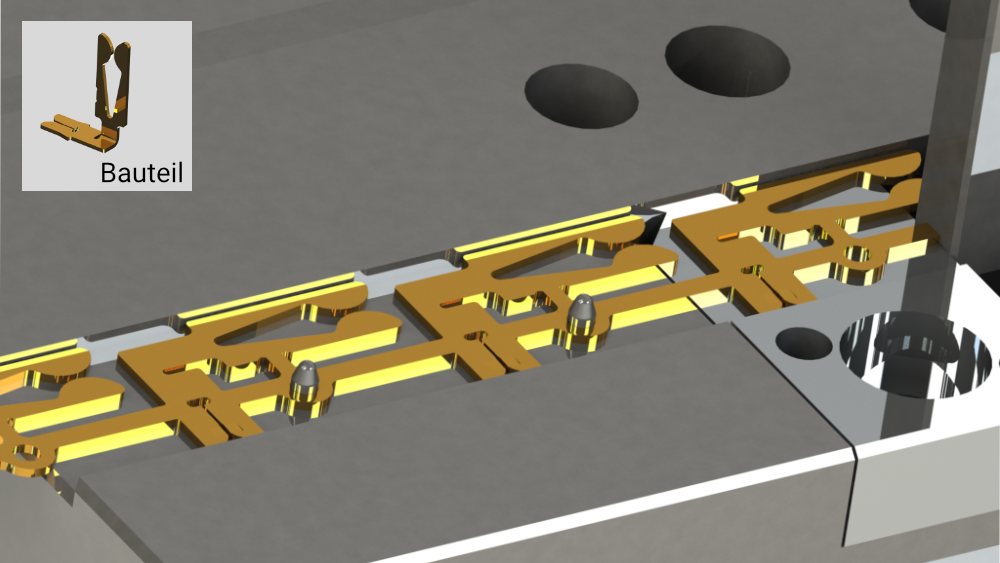 The contacts, which are connected by a carrier strip, are available on an endless reel. These are bent, separated, and made available for collection at a defined transfer position.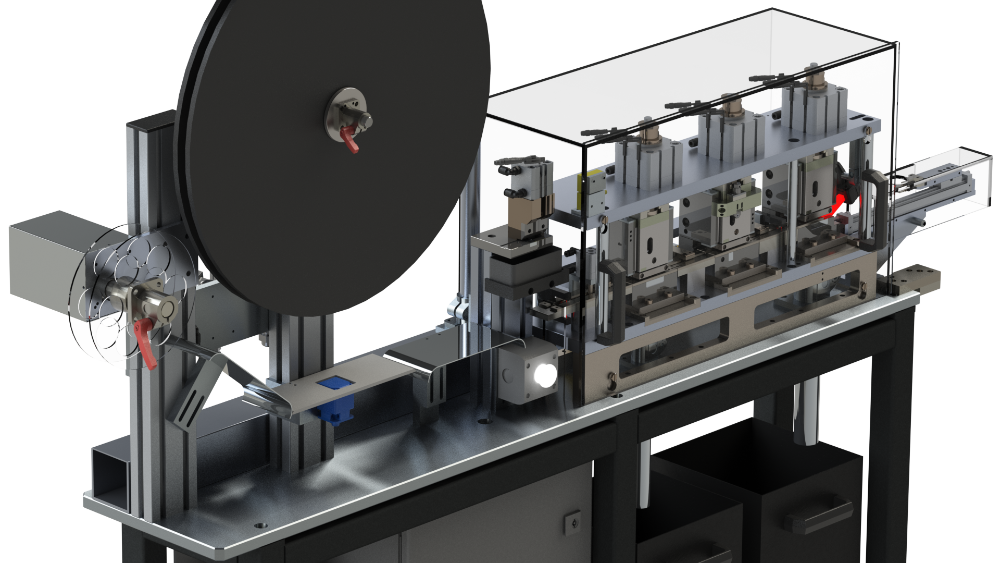 An individual user interface (HMI) is integrated for operation and parameterization. In addition, a further interface will be provided for communication with downstream processes.
Processable components and their properties
Bulk material is defined as components that are not connected to a carrier strip or placed in a blister and are therefore present as loose piece. Our bulk feeders are optimized for the correct positioning and individual provision of these components. These include springs, pins, sleeves, contacts or bent wire parts.
Depending on the type and condition of the parts and components, different conveying systems and combinations thereof are used. These include spiral conveyors, linear vibratory conveyors, drum, and vortex chamber conveyors.
Processing options
Exemplary two starting products with different product properties are shown below.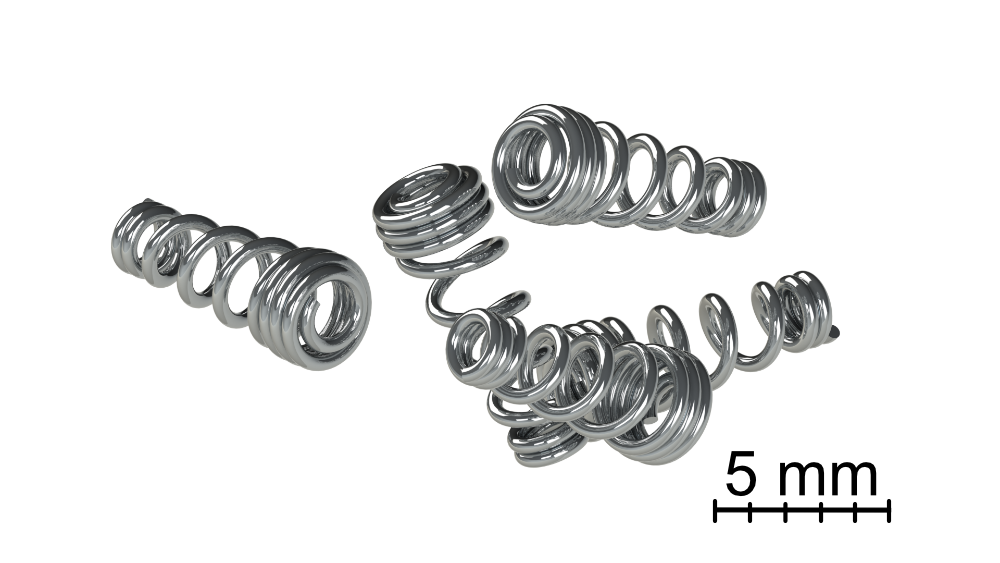 Swirl chamber conveyor
Swirl chamber conveyors are particularly well suited for disentangling of components, such as springs, which can easily become entangled.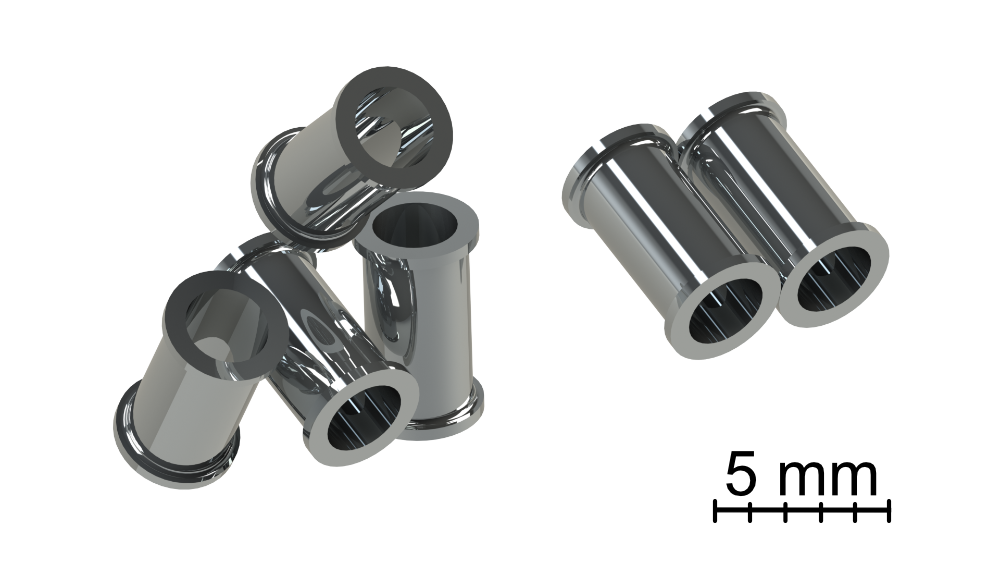 PCCS Technology
Our in-house PCCS technology is perfectly suited to transport components that require low throwing heights. These include very flat (starting at 0.2 mm) or small components (e.g. solder balls with a diameter of 0.25 mm), which would stack on top of each other at greater throwing heights.
Bulk Feeder – an example for a realization
Specialized feeding system for conical helical springs, spiral springs or contact springs to separate the products and to provide them in the correct position for further processing. The starting product is provided as bulk material.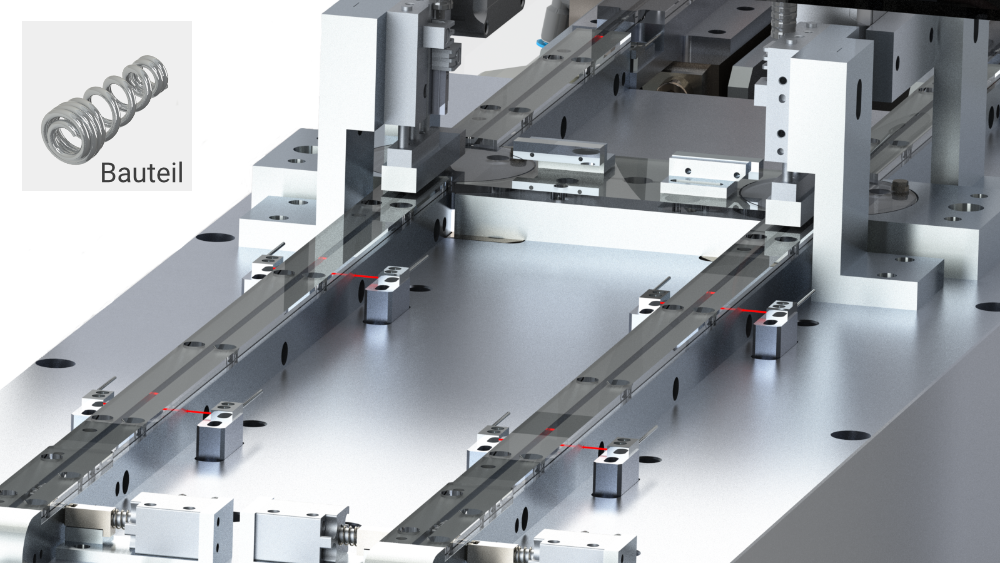 The spiral springs are separated and fed to a pick and place machine for collection in the correct position.
For example, the springs are provided as bulk material in packaging units of 10,000 pieces. The type of provisioning depends on the cycle time specification per single use and the further production process.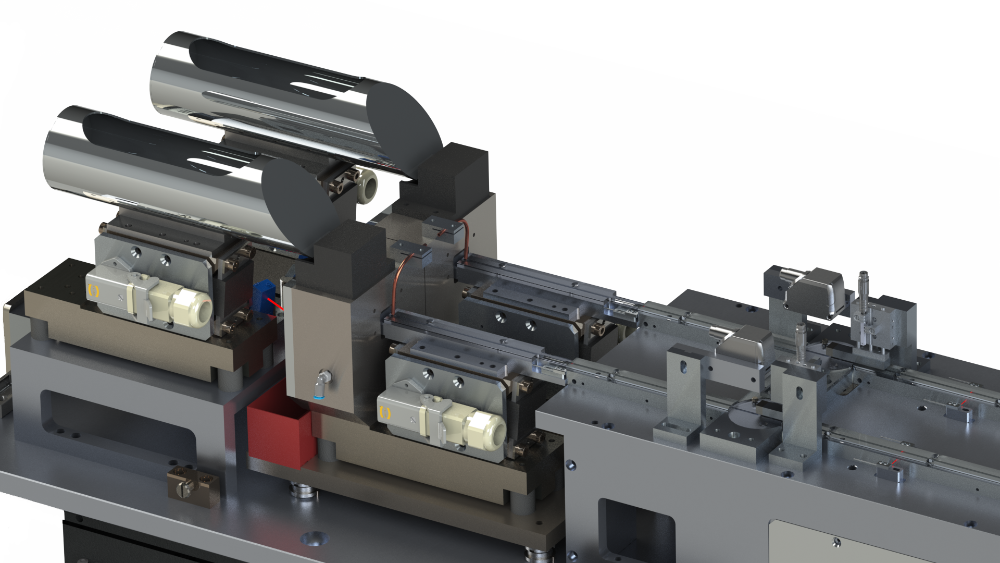 The feeder system with integrated swirl chamber ensures gentle separation of the component. The swirl chamber based on our PCCS technology serves to disentangle the springs and feed them to the downstream transport rail. The conical springs are checked by a camera system and, if necessary, are rotated to bring them into the correct rotational position for pickup by the placement machine.
The illustration below shows an example of our implementations in the field of precise separation and feeding of sorted bulk material (compression springs) to a pick & place machine for processing.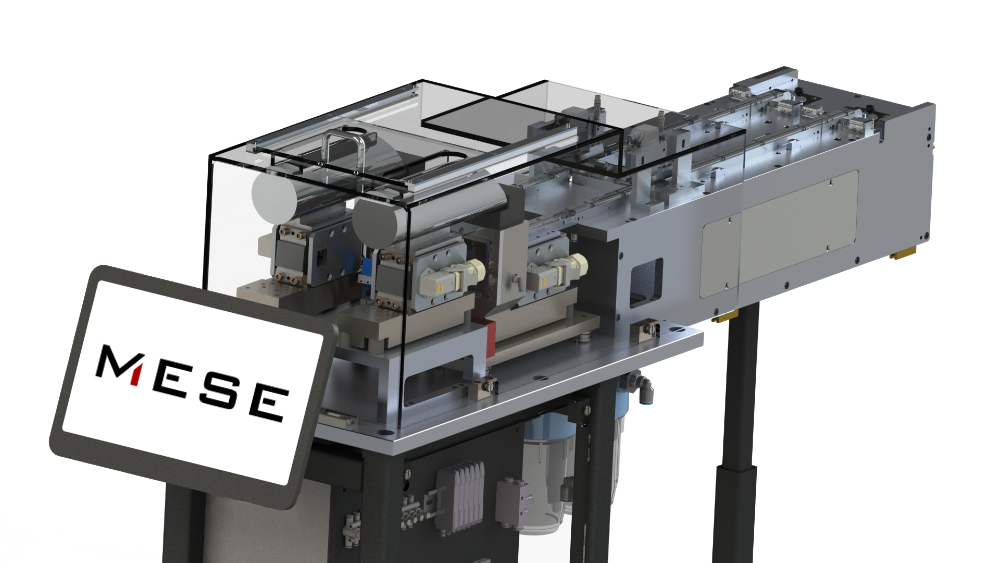 Profit from our know-how
Your experts for individual automation – Special Feeders by MESE.