Bulk feeder adapted to pick and place machines with a sophisticated implementation due to the geometry and properties of the part.
As an example we present one of our projects, the spring bulk feeder. Find out more about the objectives of this project, the challenges we faced and the implementation we worked out.
The customer's requirement was to develop a feeder that automatically and precisely feeds a product delivered as bulk material to a pick & place machine.
The product, which is delivered as bulk material, shall be separated by the feeder, positioned correctly and feeded to the pick-and-place machine at 4 pieces per second.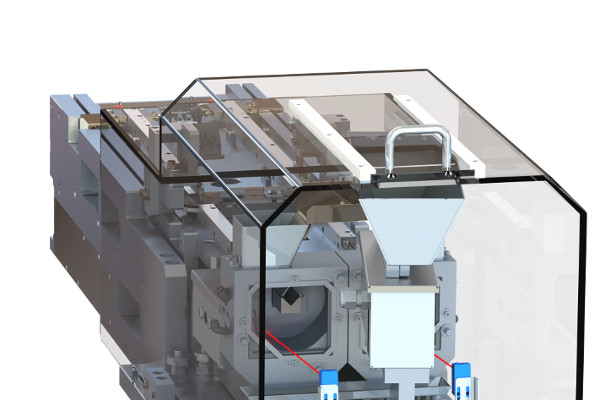 The particular challenge in this project were the properties and the geometry of the spring.
The coils of the springs can get caught in each other.
The springiness of the part causes a certain degree of unpredictability.
Since the spring is conical it may have to be turned first.
At the same time these challenges had to be solved in a very confined space.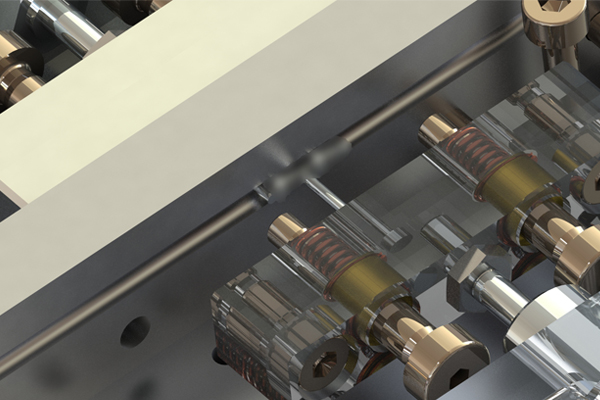 The development of the machine began with the preparation of a technical concept.
In addition to the customer requirements, the small available floor space as well as an economically and technically innovative implementation were considered.
Priority was given to careful handling of the product. Therefore the number of transfer points and contact surfaces were reduced to a minimum. The tangling of the spring is prevented by an optimized swirl chamber. This can even disentangle springs that are already tangled.
The realization and optimization of the conveying process was achieved by a coordinated combination of own PKF conveyor technology and a Venturi rail system. A state-of-the-art camera system in combination with a miniature servo drive is used to check and correct the orientation. The final preparation of the products in the correct position is carried out with discs. This ensures the time-critical provisioning of the products by two lanes at 240 springs per minute in the overall system.
Our own PLC enables us to meet the required reaction times and space limitations within the production line. We have developed and optimized the PLC especially for the usage in feeding systems for pick'n'place machines to ensure fast reaction times and interoperability. This would not be possible with conventional industrial control systems.
The system is operated via a large 15.6″ touch screen display with an HMI application that features market leading usability.
You have a similar or new challenge?
Let us solve them for you.
Summary and Machine Details
The machine developed by us was seamlessly integrated into the production line of an ASM Siplace in a very confined space.
Aspects of process optimization were implemented in such a way that the customer can now use his assembly line in a sustainable and competitive manner.